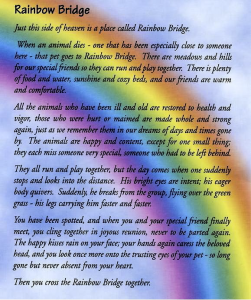 On September 2nd of this year, sweet Molli crossed Rainbow Bridge.  We still miss her very much.
In the weeks following Molli's passing, her best buddy in the whole wide world, our owner Jerry Allen, realized that he needed to find a way to turn this heart-breaking loss into a positive —  to whatever degree possible.  After much consideration, Jerry decided to assist a local organization that does a wonderful job of saving abandoned, homeless animals in Cleveland County and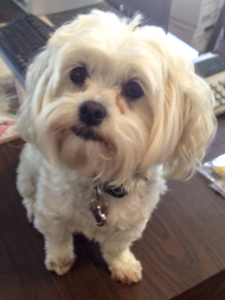 surrounding areas.  That organization is Clifford's Army Rescue Extravaganza, also known as C.A.R.E., for short.
We are placing banks in trustworthy local businesses where caring people can donate their change to this admirable cause and help save these poor defenseless animals from an early and unnecessary death.  If you own or know of a local business that you believe would be a great location for one of these banks, please let us know.
And if you are willing to donate time, money, or pet supplies to C.A.R.E., know that you couldn't help a better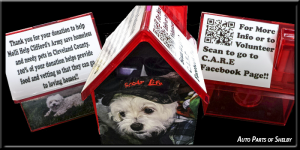 organization and that anything you donate will be much appreciated.  No donation is too small.
Thank you in advance for anything that you can do to help save these animals and to support Clifford's Army Rescue Extravaganza.
Learn more about Clifford's Army Rescue Extravaganza on their Facebook page at:  https://www.facebook.com/Cliffords.Army.
To see photos and more detailed information about local loving pets in need of a forever home, go here: http://cliffordsarmy.rescueme.org/.